CMI Chamber Flag and Barrel Cooler
For Short Action Bolt Rifles • Made in the USA
Barrel cooling is great for load development, practice sessions, and hot matches. Typical cool time is approximately 5-10 minutes depending on ambient temperature.
Patent pending. Left hand version available.
Features
Detects round left in chamber.

Prohibits AICS magazines from loading when flag is in place, (AW mags when bolt is pulled back).

AICS magazines must be removed for flag to go into chamber (AW mags when bolt is pulled back).

Prevents leaving magazine in rifle when flag is inserted.

One hand insertion and removal.

Fits short actions.

Push to forward position and use with portable air pump for barrel cooling.

For cooling barrel in vertical orientation place one side of elastic over windage knob to hold bolt forward.

Includes attached fob with target reference information. Other fobs can be added; untie knot, add your fob, and retie knot.
Right Hand Blower Hole: PN 8015-SAR
Left Hand Blower Hole: PN 8015-SAL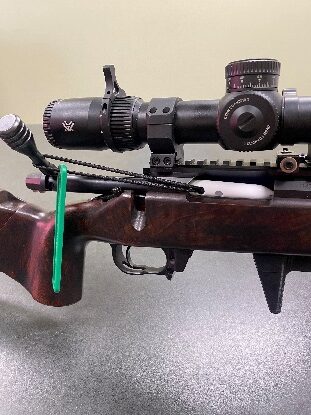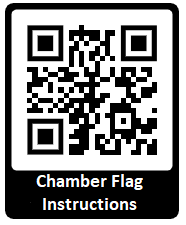 For a demonstration and instructions about how to use the CMI Chamber Flag and Barrel Cooler, scan the QR code or click the button beneath.
The CMI Chamber Flag and Barrel Cooler is manufactured in the USA by Controlled Molding Incorporated (CMI), and is designed for use with Flextail Gear Tiny Pump and Circa Air Mini Portable Air Pump for barrel cooling. Pumps are available at Amazon.com. Pumps are rechargeable with supplied 120v wall outlet adapter and with a USB portable battery power pack (not supplied).
Chamber flag and barrel cooler with or without pump can be purchased at grayopscnc.com.